Terms & Conditions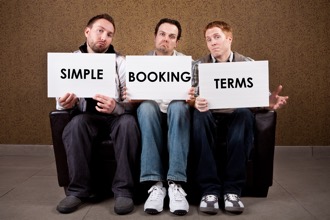 Below are the booking terms and conditions as set out by StagWeekends.com
StagWeekends.com is a subsidiary of DesignaVenture Ltd.
These booking terms & conditions set out below will form part of your contract with StagWeekends.com & DesignaVenture Ltd for all products you book with us. Please study them carefully.
Please also see How To Book.
It is understood that when booking with us by email, telephone, online or in writing, that you are accepting our terms & conditions.
As the person initiating the booking you are responsible for making all party members fully aware of our terms & conditions.
Activities are usually subject to a minimum group size.
Booking Acknowledgement, Amendments & Final Balance
We require an initial non-returnable deposit as outlined in How To Book, or in some cases full payment will be required dependent on the product(s) booked.
On receipt of your deposit, your booking will be confirmed in writing, stating what you've booked, how much you have paid and when your balance is due.
The balance is due 5 weeks before your arrival date, this is the best time to make changes in numbers.
On receipt of full payment your essential travel pack will be posted and emailed to you.  Please check your travel pack carefully, if you find any discrepancies please contact us immediately.
Within 4 weeks of going you can only add people onto your booking.
Final Payment
The balance of your account is payable no later than 5 weeks before your arrival date.
Cheques should be made payable to DesignaVenture Ltd, we also accept bank transfers and payment by Paypal and credit/debit card (we do NOT accept Amex cards)
If you do not make full payment by the due date we reserve the right to treat your booking as cancelled and you will be liable for a cancellation charge.
Changes By You
All changes MUST be made by the party leader directly with Stagweekends.com
Increasing group numbers (subject to availability) within 14 days of your departure date will incur a £20 admin fee per amendment
Change to activities/accommodation/transport will be deemed as a cancellation where alternatives cannot be found or are unavailable. If changes can be made a £20 amendment fee will apply.
Similarly cancellation is deemed to take place for a section of the booking where withdrawal from a whole activity, reduction of activity numbers below providers' minimum numbers, or reduction in a whole nights accommodation.
Once your booking has been confirmed, we may not be able to alter your itinerary or group size.
Cancellation Of Part or Whole Booking
To cancel any part or all of your booking, you need to advise us by telephone in the first instance, followed by written confirmation.
If any cancellation reduces the number below any concessions agreed (eg free place) for your booking, we would recalculate these items and send you an amended booking confirmation showing the new amount payable.
Cancellation charges are as follows, percentage referring to the total booking price:
More than 29 days before departure =
Loss of deposits
28 - 0 days before departure =
100%
Alterations or Cancellation By Us
Stagweekends.com Ltd reserves the right to make alterations to activities, accommodation or any other arrangements at any time, where necessary, due to circumstances beyond our control.
Most changes are minor however sometimes we have to make a major change to your break.  We undertake to notify you of any such changes as soon as we are advised, in this case we will offer, where possible, alternative arrangements of comparable standards or a full refund for the element of the break affected.  Please note no compensation is payable.
Should a substitution be made of lower value, you will be entitled to compensation up to the net value of the portion of the product you missed.
Force Majeure
Where unforeseen catastrophic events prevent us from our obligations under our contract with you. Stagweekends.com cannot accept liability or pay any compensation where you suffer any injury, damage, expense or loss of any description as a result of Force Majeure
Insurance
You and all members of your party are strongly advised to take out adequate and appropriate personal insurance for your protection.  It is extremely important to confirm with your insurers that your insurance policy covers the product you and/any party members will be participating in.
Health & Safety
We endeavor to work only with reliable third party providers, who manage their activities and accommodation/activities/transport to the highest standards.
Many of our activities have age, height, weight, level of fitness or other special restrictions.  These may be detailed on the website but, if in doubt, please check with us before booking.
If you have any existing medical conditions or disabilities you need to let us know the details so that we can check that the product you are buying is suitable for you.
Additionally, where an activity includes an element of personal risk, providers may require participants to sign disclaimers, before taking part.
Our providers have the right to refuse entry and use of their equipment or accommodation should you turn up intoxicated. You will not be refunded for loss, for part, or for the whole of your package.
Please note our suppliers have to take into account other participants and your safety.
Providers' Terms & Availability
Those using the facilities of our providers automatically agree to be bound by their conditions, for example regarding safety and cancellations.
It is your responsibility to arrive on time for your activities/transport.
As you will appreciate, we have no control over the weather and nature.  Activities may be cancelled due to the weather/nature conditions, which could affect clients' safety or enjoyment.  If this occurs you will be offered alternative activities, please bear in mind these may be at an additional charge to you or a full refund for this element of your break will be offered.  You will not be entitled to any compensation,
Our accommodation providers that offer single or double rooms for sole occupancy usually charge a single room supplement.
We cannot be held liable for any costs incurred when providers cancel activities at short notice.
Independent providers' supply the products that make up your booking.  These products are supplied in accordance with their own terms and conditions; their terms may limit or exclude the provider's liability to you. Copies of providers' terms and conditions can be requested from either the provider concerned or us.
Providers' & Your Personal Property
You are responsible for any damage you cause to any property of our providers.
Personal property is your own responsibility at all times.
Most providers' will require a behaviour bond.
Behaviour
You must behave in a reasonable and responsible manner at all times.  If the behaviour of any member of your party is considered to be causing or likely to cause offence, danger, damage or distress to others or damage to property, we reserve the right at all times to cancel or terminate the break arrangements of the person(s) concerned completely.  Our responsibilities for any such person(s) will immediately cease.  No refunds will be made or compensation paid and we will not meet any expenses or costs incurred as a result of the termination.
Feedback
Stagweekends.com and our providers' appreciate feedback – good or bad.  Whilst we make every effort to ensure that your break runs smoothly, there may be occasions when things do not go as planned.   If you feel you have any cause for complaint during your break, you MUST raise it immediately with the provider so that they have the opportunity to put things right, alternatively contact us at the time if the issue happens during our opening hours.
If a difficulty could be resolved 'on the spot' it is not generally considered reasonable to seek redress from our providers or us at a later date.
In the unlikely event a problem cannot be resolved at the time, you should write to us within 14 days of returning from your break quoting your booking id and setting out your issues; as long as the above conditions have been carried out we will do our best to investigate your issues and reply within the next 28 working days.
We will require receipts if in the rare event you have to pay for products that you have already booked and paid for through us.  We will then reimburse those product costs. No compensation will be paid.
Failure to follow our feedback procedure excludes us from any liability
Website & Quote Descriptions
Stagweekends.com website and quote descriptions are given as accurately as possible and reflect our understanding of each product that we offer in good faith.   However because we do not own or control our providers, changes can and do occur from time to time and may be made without any advance notification from our providers.
Errors will happen occasionally, we cannot accept any liability for any errors or omissions except where these have arisen due to our negligence.
We reserve the right to use images that are an illustration of the product and may not actually be the exact product itself.
We reserve the right to vary prices without notice.
Where accommodation has a grade we use that classification, but on ungraded accommodation we use our own experience to grade the property, taking into consideration the standard of the accommodation, facilities and services offered.
Transport is not included unless specified on your itinerary.
As you would expect, most outdoor activities do NOT take place in city/town centres. We therefore consider approximately 25-45 miles from the nearest popular city/town that we advertise the activity under to be a reasonable distance to travel to participate in an activity - Occasionally the activities can be further away from the city/town centre, therefore it is advisable to check the distance at time of booking.
Email Marketing
When you sign up to our website or make a booking with us you accept that you wish to receive e-mails from stag weekends.com.  We won't bombard you we will only send the occasional newsletter or promotion.  However, if you wish to unsubscribe just email us at unsubscribe@stagweekends.com
Your Security
All payments made to DesignaVenture Ltd (owners of Stagweekends.com) are held in a Trust fund Run by Thorne Widgery and Paypal until after your event, this means in the unlikely event of DesignaVenture Ltd or Stagweekends.com failure your money remains safe.