Off Road Buggy Racing・Stag Weekend Activities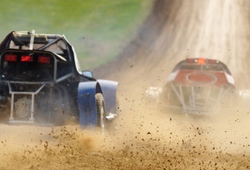 We heard you like it dirty, filthy and nasty.  That's fine by us, we've got the perfect stag do activity to get you dirtier than you've ever been before.
 
Dirt buggies are the ultimate in mucky madness for the practiced petrol head.
Tweak the throttle and caress the steering wheel, you'll need to love this big girl before she lets you take her for a ride.
 
A few practice runs to get you going and you're ready for the hardcore hairpins and check-your-pants chicanes. Plough this beefy girl like a man and she'll treat you right, slam the rubber into the dirt and feel her grip harder. Smell the fumes, taste the sweat and smash those lap records.
 
You'll be provided with all the protection you need, overalls, helmets and some helpful advice from the blokes who know.