Outdoor Go Karts・Stag Weekend Activities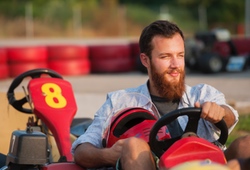 There's something about the smell of the fumes, the roar of the engines and the sight of the open track ahead that turns every man into a maniac that wants to rival Hamilton on an outdoor karting racetrack and there's nothing like it to get your stag do revved up and raring to go.

Competing with up to 12 other drivers under the best racing conditions you could wish for, it's foot to the throttle and a middle finger to the wind as you all try to out-steer and out speed each other. Remember the hare and the tortoise? … No neither do we!