Archery・Stag Weekend Activities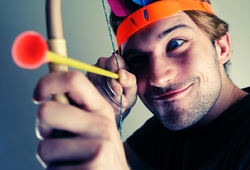 Some lads will shoot anywhere and let's face it, no-one wants pink eye at work the next day. Hone your aim and master your angles with a weekend of archery from StagWeekends.

You'll receive some expert tuition from the lads in the know and pretty soon you'll be shooting straight enough to make Maid Marion go weak at the knees.

Track your target and pull back, make sure you're steady on your feet, zero in on that centre spot and fire!
Hit that spot again and again, we can't promise it'll moan and call you Big Boy but you'll certainly get a few cheers from the boys.