Quad Biking・Stag Weekend Activities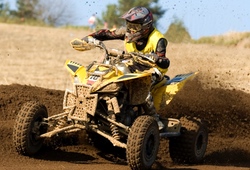 Get yourself a muddy helmet without needing a douche. Clench your fists, grip your thighs and get ready for some filthy, dirty fun.

Quad biking is the daddy of daredevil mudsports, tame one of these 300cc turf tearing monsters and prove you've got the balls to beat the bumps, banks and hairpin bends.

You'll be ripping treads across some of the most beautiful landscapes in the UK, shredding chicanes and revving up ravines by the seat of what's left of your pants.

Whether you're a Sunday driver or a backyard boy-racer, quad biking has all the ingredients to serve you up a feast of fun.