Paintball・Stag Weekend Activities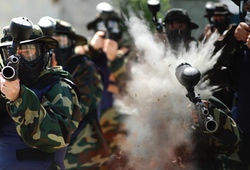 Are you the type that empties their load as soon as you see your enemy approaching like a pebble dasher on a housing estate or are you an SAS trained sniper that takes careful aim and only uses two shots to take three people out?
 
Whatever your ability our carefully selected paintball sites are professional outfits providing the most up-to-date weaponry, safety equipment, overalls and games.
 
Game scenarios include raiding your opponents camp, escape and evasion, defending your base, speedball, D-day landings, nuclear winter, jungle fever, bridge attacks, and the list just goes on.