Crossbows・Stag Weekend Activities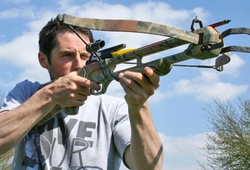 Take a step back boys, this is a sport for men who always hit their targets.

Focus your mind; take a breath, brace and fire. Now you're getting the hang of it.

The crossbow is a super powerful, silent weapon firing deadly bolts at 250ft per second straight through whatever gets in your way and it's all yours. Grip the trigger, catch the smell of oil and grease on the breeze and get ready to shoot for your manhood.

Once you've got to grips with the beast and you know exactly where to touch her to hit the spot, you can go hell for leather. Shoot left, shoot right, like a virgin on Tinder and prove to the boys you've got the balls to blast the bull's-eye.