Assault Course・Stag Weekend Activities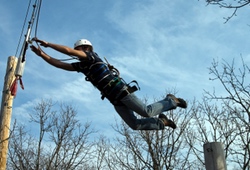 Are you the kind of stag who likes to go hard or go home? Assault course is not your chance to fondle the opposite sex in a field but you do get to tackle the trapeze, crawl through cargo nets and get your jungle juice pumping on the low ropes.

Assault courses are the hardest, fastest, dirtiest and toughest way for the lads to measure their manhood in public without ending up in handcuffs.

Once the gauntlet is laid its time for you to ditch the guy-liner, pack up the hairspray and release the dirty, hairy apeman that lives inside you.

These state-of-the-art courses will test your strength, analyse your stamina and separate the boys from the men through mud, muscle and meat to become king of the course.