Zip Wire・Stag Weekend Activity Ideas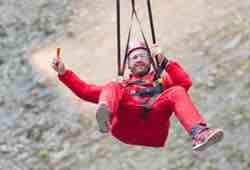 Thunder-down a mountain side at monstrous speeds, strapped in and soaring like a bird. Zip Wiring isn't a new activity however, with modern day technology and safety this incredible experience has just got higher, faster and much much better.

Whether you're launching yourself off a Pier on to a beach, from a platform on an extremely high mountain's ledge, from a tree or in a cave, the Zip Wire activity will not only take your breath away but will make you feel like you have huge "cojones".