West Country Games・Stag Weekend Activities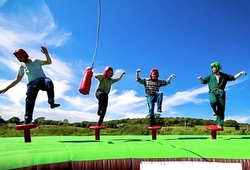 If you fancy spending a weekend frolicking around like a fifteen fingered farmer the West Country Games brings you all the stupid, stanky and just a little bit special bits about cider country.

You'll have so much fun you'll start to fancy your sister as each of you competes in up to 9 different West Country themed games celebrating the ooh and the aar of the West Country.

The Cider Run: Stick a glass of cider on 1 of 3 trays set up along a runway. Basic right? Not when you're attached to a bungee cord tighter than nuns country boots whilst legging it like a stabbed rat it isn't.

Vicky Pollard Handbags: 2 contestants wearing fat suits get to batter each other with handbags like Gemma Collins in the frozen foods aisle until one of you gives it up.

Pitchfork Duel: A modern take on the classic west country past time, 'pitchfork fighting'. Presumably designed to sort out which of your brothers gets to marry your cousin. Basically, with today's version you get 2 platforms, 2 contenders and 2 inflatable pitchforks, you just need to battle until you knock your opponent off their platform.