Welsh Games・Stag Weekend Activities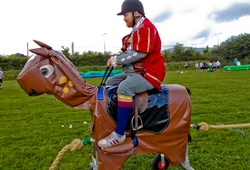 If you fancy a wild weekend with a sheep or three then this lot will be right up your terrace.

We're giving you the chance to really lube up your leek with nine Welsh themed games celebrating all the wildest, weirdest and Welshest things about Wales.

Sheep Shenanigans: How long can you hang on to your Woolly Wobbler before you get tossed off? Hold on tight and see which of the lads can hold on the longest, it's a little bit Texas, it's a little bit Tonypandy and it's all about having a crackin' time.

Drunk Dragons: Gloucester has the cheese roll, but yer in the valleys we've got the Dragon roll. No, it's not a spicy pasty butt, it's a muddy downhill race dressed in padded Dragon suits and all you've got to do is get to the bottom first. Lush mate.