Surfing・Stag Weekend Activities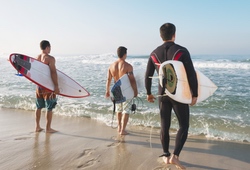 For the lads who like it wet and wild, it doesn't get much wetter, or much wilder than surfing.

After a heavy night on the tiles with girls so hot you could cook an egg on them, this is the ultimate cold shower.

Whether you can catch a lip like a pro or you wipe out in a puddle, surfing is one for every lad in the group.

The UK has some awesome wide beaches and plenty of North Atlantic rollers to find your feet on.

Pretty soon you'll be wetter than a virgin sitting on a washing machine. Messed up hair, surf board under your arm, wet suit showing every bulge, the girls will be as moist as you are.

Throw in great tuition from hairy men who can tame the seas and you've got yourself a one way ticket to Awesomeville.