Suping・Stag Weekend Activities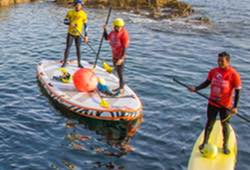 Fancy a new way to get wet and wild? Suping and Group Super Suping is the awesome water sport that you've never tried.

Jump on-board a giant surfboard and paddle the coastline or river with your mates taking on waves, wind and wild water. Pretty soon you'll be wetter than a virgin in a strip club.

Suping combines the best bits of surfing and canoeing, it's all about brushing up on your balance and breaking a sweat with the boys.

You'll learn how to stroke like a pro and get better and better at getting wetter and wetter.

Like all the best weekends it starts off on your knees. You'll work you way up to standing before you really get into the rhythm and before you know it you'll be pounding those waves like a pornstar.