Roman Games・Stag Weekend Activities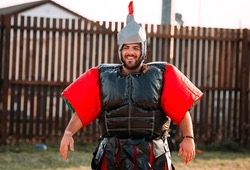 Lads, it's time to get lairy and party like it's AD43. These epic games will go down in history as the best stag weekend ever.

Strap on your sandals and load up the chariot because Roman Games are about to put the wind up your toga.

You and your fellow plebs are about to go on an epic adventure, competing in 8 hilarious roman themed games to put your manhood on the line and see how you measure up.

If you like to tweak a nipple now and again then you should be a champion Goat Milker in no time.

Romans used stale goats milk to get their teeth whiter than white, so, grab hold of those teats and milk like a virgin with broadband. First team to fill up their bucket wins.

The Dung Munger will test who's fit and who's full of sh .. ifty ideas. The team who collects the most dung balls wins.