River Cruise・Stag Weekend Activities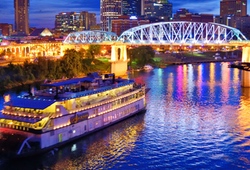 Lads, its time to get slaughtered on the water. A floating party boat at your command with booze, birds and a bangin' DJ to keep the party bouncing.

A river party cruise is your chance to party like you're in Saint Tropez on your own river limousine with onboard bars, party lights and drop down, dirty beats.

Forget your desk and boardrooms and shout bon voyage on your bouncing party barge, taking a cheeky cruise around Cardiff's coast or twerk with your top off on a trip down the Tyne.

Found your sea legs? Good! Get a gobful of the on-board buffet then party till you pass out.