Nerf Wars・Stag Weekend Activities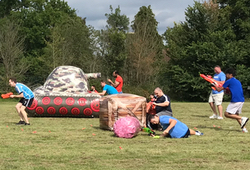 For you lads who love a battle, but can't handle the pain… we have the perfect solution for you!

Reload, Aim and Fire! Get ready to dodge over, under and around obstacles as you use strategy and skill, or just brute force and ignorance, to take down your opponents in this epic war-game that is like no other!

Talk about having a blast from the past as you relive the greatest invention from your childhood, just this time you're not shooting at your neighbour's cat with your sharp shooting skills. After all those years of practise, it's time to put your skills to the test in the Nerf war to end all wars!