Mini Moto Racing・Stag Weekend Activities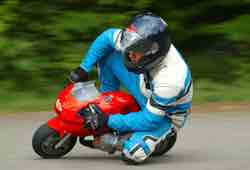 Keep your knees in lads because these little pocket rockets take no prisoners.

Mini moto bikes run up to 50cc and they are small, like, really small. Remember your very first Raleigh Max push bike? Strap a firework on the back and you're starting to get the idea.

You and your mates get to bang these little mini monsters around an indoor karting track, head to head, clip the apex, take him on the inside and bring home the win on your mighty mini moto.

All safety equipment is provided, helmets, gloves overalls and the all-important knee sliders to keep your pointy bits in tact when you're travelling at 30mph only 4 inches off the floor.

These brutal little beasts are built for fun, giving you and the lads the chance to recreate your own scaled down Moto GP.

Make sure your stag-do packs a punch and book a mini moto experience with StagWeekends.com.