It's a Knockout・ Stag Weekend Activities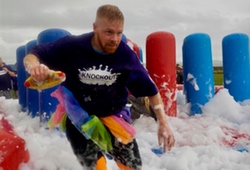 No need to knock one out with your finger on the 'esc' button, It's a Knockout will make you forget about mid-week masturbation as you put your body to the test and your balls on the line.

A rowdy remake of the cult 80's TV Show, It's a Knockout will test your brains, brawn and the bulge in your boxers.

Imagine competing against your mates inside the mind of a hyperactive 3-year-old who just ate a bucket of skittles.

Get wet and wild whilst getting pelted with water guns on a giant inflatable obstacle course dressed up in replicas of the original TV Show costumes.