Indoor Go Karting・Stag Weekend Activities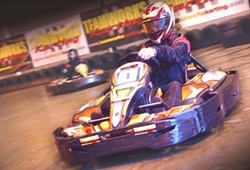 Guys, we all know you fancy yourselves as the real Lewis Hamilton – well now's your chance to prove it. Rev up your stag do with a bit of mano-a-mano competition on the racetrack, albeit indoor go karting but it still feels like 200mph around some of those bends.

Just like the pros, there are on-board computers, slick tyres and marshalls with flags. Some of the race ready track sites have flyovers and all provide the necessary safety equipment to give you confidence at this roaring activity, such as head covers, helmets and overalls. You can even get that ultimate professional accessory – the polystyrene cup filled with coffee. This is the best way to get all, or most, of your stag party on the track at one time.