Hovercraft Racing・Stag Weekend Activities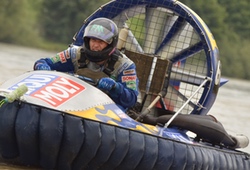 Floating on a cushion of air? Are you having a laugh? This big boys toy does just that, and you get to race them around a specially designed hovercraft racing circuit (time trials only). They are not the easiest machines to control but with expert tuition you will be flying in no time. You will be kitted out with all the necessary safety gear. You'll hov-er great time!!

North Wales/Shropshire and Chester have two-land/water tracks, one skill based and the other is speed based. Bristol, Leeds and Reading have specially designed land based racetracks ideal for competition.