Highland Games・Stag Weekend Activities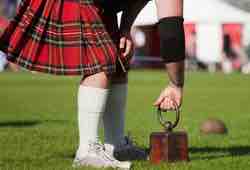 So you and the lads fancy yourselves as a bunch of Irn Bru boys do ya? Well, Och aye, you don't have to be in Scotland to swing your sporran in this loin-girding chest-thumping Stag-do marathon of Neanderthal prowess, because our Highland Games has venues in Edinburgh AND Blackpool.

Perfect to demonstrate your brawn over brain, there's tossing, wanging and tugging galore …and not a pole-dancer in sight! We're talking Welly Wanging, the Farmers' Dash, Tossing the Caber (that's not a euphemism), Archery – bit of skill required there I'm afraid – and good old Tug of War. Plus who knew that haggis was meant to be flung, then try chucking a hefty tyre around and heaving a weight over a bar (not the pub bar silly!). We'd like videos of the 'Clan Chants' game please and the 'Spin Clash Dash' sounds like a Youtube embarrassment waiting to happen … especially if you're wearing the optional kilts and Celtic wigs!