Footgolf・Stag Weekend Activities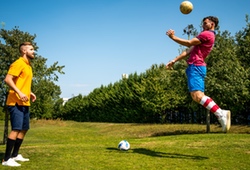 If you like balls and feet then FootGolf is going to be right up your street.

It's pretty obvious where this is going but we'll explain it anyway. It's football, but golf, but also football … and golf.

Still nothing? Ok so, you're on a golf course dressed up like you showered in starch because that's what rich people do when they want to 'do business'. You can see the fairways and the bunkers and the holes, but, it's not an ordinary golf ball sized hole, it's a hole a football can fit in. And there go, even Kevin who eats glue at the back of the class gets it now.