Evening Meals・Stag Weekend Activities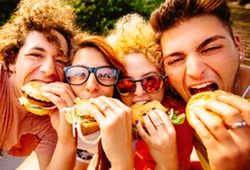 So you've had the night of your life so far. Now you need to top up the tank before you can party on until morning.

Well, you won't be disappointed. We have hand-picked the best restaurants in the best locations that offer great food, great service and a great atmosphere.

Feeling famished for fajitas or starving for a serious hunk of sirloin steak? We've got you covered on all the good grub you can get.

So here's the deal, we'll sort out the table, the food and even a few drinks here and there but we'll leave any more drinks and extras up to you, because 1500 tequilas ain't in the contract.