Combat Archery・Stag Weekend Activities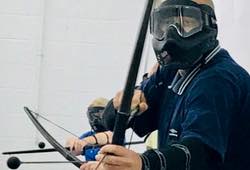 Looking for something with more adrenaline than a RedBull marketing campaign? StagWeekends have found it and you need to try it out.

Combat Archery combines a Hunger Games battle ground with specially designed archery equipment for one epic game of medieval dodgeball.

Face off against your mates in an all-out game of manhood measuring and see which one of you has the jewels to lead the boys to victory.

Two equal teams, five target cones and a decent chunk of pride on the line, each game runs for 10 minutes with 5 games per match.