Coasteering・Stag Weekend Activities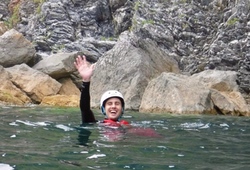 If you like it wet and wild but don't want to clean the bedsheets then coasteering will be your kind of water-sport.

Find your feet, make sure you've got your positioning just right and dive in as deep as you can go, you're guaranteed to finish this wet weekend with a moist helmet.

Coasteering is your chance to swim through deep ocean caves and whirlpools, cling to jagged cliff sides for dear life and plunge into deep plunge pools from 60 foot ledges.

If you're a proper adrenaline junkie coasteering will keep pushing you until your pants are warm.