Casino Entry・Stag Weekend Activities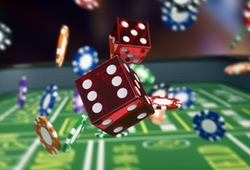 Kerrrchiinngg! Casino nights really amp up a stag do, there's something kinda Oceans Eleven (or 12..or Thirteen!) about it…except you're not really there to rob the place! Even the most resistant gamblers amongst you get caught up in the thrill of beating the dealer, the slot machines become an obsession and the roulette table has everyone in an adrenalin spin.

You suddenly come over all 'Daniel Craig' as you pluckily ask the blonde across the table to give your dice a lucky kiss, the poker table morphs into an eye-squinting scene from The Sopranos (without the bloodshed) and Black Jack suddenly becomes your new nickname.