Bubble Football・Stag Weekend Activities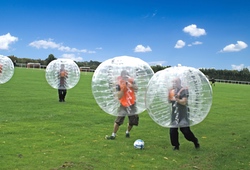 The world of stag do activities seems determined to merge the basics of football with the most wild and wonderful of other games and this is no exception.
 
Bubble Football conjures up all sorts of images like maybe giant bubbles that you have to kick around into a watery goal?…No no no, you're not fairies (well, not all of you) this is much better than that wishy washy stuff.

This hilarious combo has you looking like something from another planet because you are securely strapped into a huge transparent blown up ball (or zorb) from the waist up.

Recognisably, there is a pitch with goals either end and two teams of 5 (this is a 10 person minimum activity) and when the whistle blows, the object is to tackle the ball from your opponents who are in equally ridiculous attire, though when we say tackle we mean more like charrrrggge! Rebound and roll your way to victory, if you can stop laughing for long enough.