Booze Bike・Stag Weekend Activities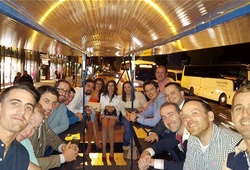 Bang on your cycling shorts lads, you're about to get buzzed in Blackpool on a bike. Not just any old bike mind you, this is a pedal powered pub guaranteed to wet your whistle.

Get your legs around this big old girl and bike it from bar to bar, bang on your favourite tunes from the onboard sound system and really give the bike some boogie.

With enough seats for 16 people you've got a rolling pedal party on your hands (and your feet) and everyone will want to be your best mate.