Blindfold Driving・Stag Weekend Activities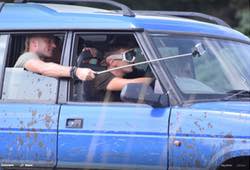 Grab your stick, close your eyes and hope for the best. It's hardcore and dirty riding through the rough but if you do drop it into the wrong hole, don't worry, your mates are watching your back.

Blindfold driving is a sensory mashup of ears, hands and feet, feel for the camber, listen to your mates and caress the throttle carefully.

You'll need to do some serious braining to wind your way around these specially designed courses in a 4x4, tackling hills, bumps, cambers and obstacles with nothing but your mate's directions and your wits, and blokes hate taking directions, so we feel your pain.

But it doesn't stop there. Once you've got used to the blindfold, certain words will be banned to make the course even harder, just try not to end up taking junction 29 on the M4.

This is the ultimate test of patience but it's also a right laugh when you get the landy lodged in a bush so don't take it too seriously.