Bierkeller・Stag Weekend Activities
Bierkeller Bavarian Party Nights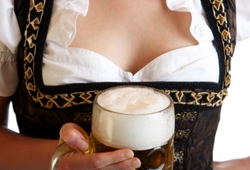 Can your sausage stack up against the German boys? Nothing says German like sausage and beer and nothing says sausage and beer like The Bierkeller.

You have VIP entry to the bonkers bar that is Bierkeller, the best German import since Heidi Klum and you can even mix it up with package extras like a shot & Pretzel or Bavarian sausage meal for the complete German party treatment.

If you've got the balls for all that Bavarian beer, go off the chain for Oompah and can have some fun in fancy dress then Bierkeller is your perfect, unique stag destination.