Bar Crawl Babes・Stag Weekend Activities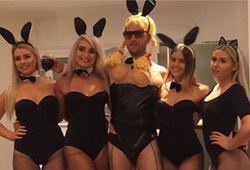 Lads on the lash are lairy. That much we know, and the last thing you lairy lads want is to spend your night standing in queues with mouthy teenagers and a drunk guy who uses your shoes as a urinal.

That's no fun and we don't want any part of your lads weekend to be a downer.

With a guided bar and club tour, you become the VIP everyone wants to be. You'll get guest list entry to the hottest spots in town, and the best bit is, the whole night is guided by smoking hot hostesses who will show you every inch of their city, so you can find the sweetest spots to get loaded.

These hostesses don't just have the mostest, they've also got your drinks covered. Sure, it's using the kitty you and the lads put together at the start of the night but they will take your orders and deliver the drinks to your table. What more do you want? Give the girl a break!