4X4 Driving・Stag Weekend Activities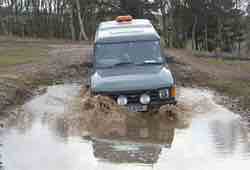 This is dirty, hardcore fun for the petrol head stag.

No, this isn't kinky dogging in a supermarket carpark, this is epic off-road fun in a powerful 4x4 with your mates egging you on.

The 4x4 Challenge takes you on a rough and tough off-road course, tackling steep inclines, water splashes and obstacle courses with nothing but your nerves and an instructor to keep you upright.

These beefy ex MOD Landrovers don't hang about but we don't suggest you unleash those roaring V8's until you've got your bearings.

Take an extra pair of pants lads because those nerves of steel are going to take a beating and let's face it, your mates are not going to go easy on you.