Zombie Boot Camp・Stag Weekend Activities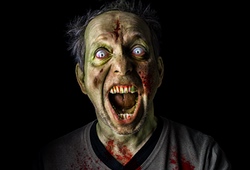 They want a piece of you, they want your body and they are all coming, just for you. Sounds like heaven, right? Well, not this time cowboy, this is evil, unadulterated hell.

The virus has spread, the undead have broken loose and bloodthirsty, brain eating zombies are roaming the streets, hungry for flesh and you and your mates are a zombie buffet.

If your survival instinct takes over, you might just stand a chance. Whether you're fighting for your life in an abandoned mental hospital or trapped in a derelict, underground nuclear bunker you'll need your brains, your brawn and your arsenal of zombie smashing weapons.