White Water Tubing・Stag Weekend Activities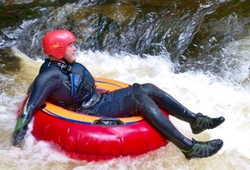 If you like your water sports calm, relaxing and tranquil then you'd better keep searching. River tubing is like the lazy river but designed by your ex-girlfriend who's still seeking vengeance for that time you shouted the wrong name in bed.

It's wicked, fast and wetter than a virgin in a brothel. You're riding a rubber ring down white water rapids, no brakes, no steering and nothing keeping you upright apart from basic physics and a sobbing prayer.

Grab the grip handles and get ready for the ride of your life. Imagine a washing machine and you're an odd sock, yes, it's kind of like that but worse. Ok chill, it's not all pummelling currents and praying for mercy, there will be stretches of calmer water where you can compose your tears and empty your boxers.

And don't worry, it's very unlikely to kill you, you'll be given a full safety briefing from hardened river wizards with beards and forearms that can stop a flood and if you do happen to slip out of your ring, a large friendly man will be on hand to make sure your ring is nice and tight.