Motorsport Mash Up・Stag Weekend Activities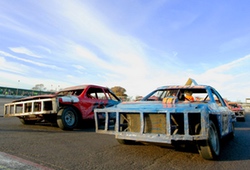 You're a petrol headed stag who knows he can perform in the sack and in the drivers seat.

Been there? Done that? Won the medal?

You might be able to J-turn your Fiesta in an empty car-park but now it's time for the ultimate, white-knuckle motorsport challenge.

Our motorsport package is a no expense spared, petrol head mecca designed with one thing in mind, FUN!

Battle it out in race-prepared 1300cc saloon cars, go for gold in BriSCA F2 stockcars, tame double decker cars, 850cc Reliant robins, drift cars and become a film star with an actioned packed stunt driving school.