DTV Shredder・Stag Weekend Activities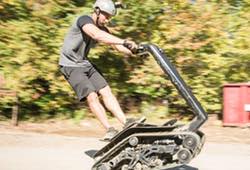 Twin tank tracks, skateboard agility and motorcross power, this is not for your average Brian, this is an activity for lads with balls of steel and a taste for pure adrenaline.

You've conquered the quad bike, you're the rage buggy ring master and you've lapped the kart track enough times to do it in your sleep but you need more.

You snort tyre smoke and drink petrol for breakfast, you need a challenge, something new, something mental.

We've found it.

DTV Shredders are the first true crossover vehicle for action and power sports. Built to tackle snow, mud, sand and mountainsides at boxer browning speed the 200cc engine and skateboard deck are the ultimate blend of power and agility.

You can jump, twist, drift and flip with the entire outdoors as your own personal playground on the craziest thing you've ever ridden.